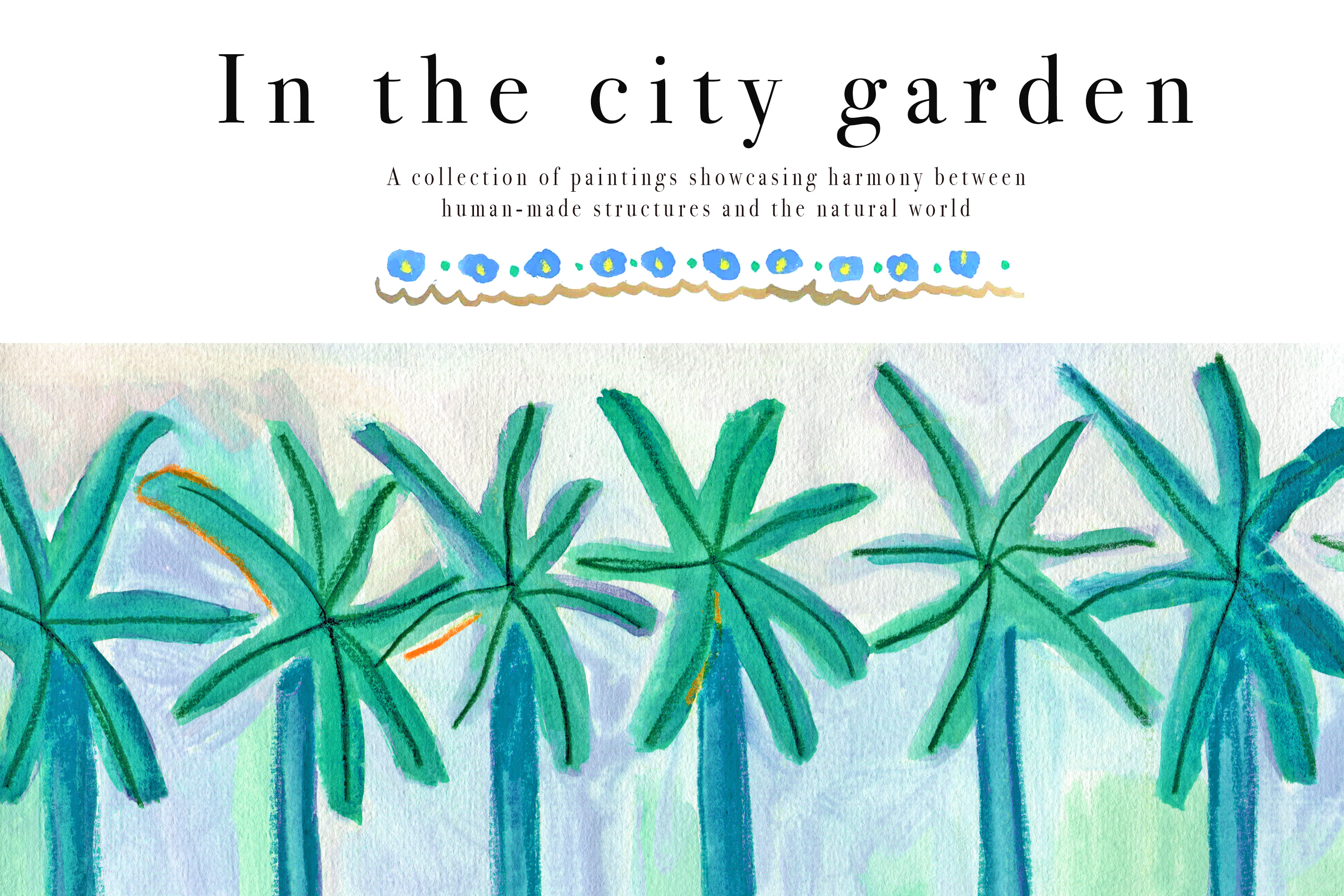 Arriving in Seville in August 2023, we were a little bit worried....
It was only after we had booked our AirBnB that we realised Seville is described by many as the 'frying pan of Europe' and is in fact the hottest city within continental Europe.
Although it was extremely hot (yes, we did see a road sign display 49 degrees!), we still had an amazing time and I found it very inspirational, so much so that I created a new range of art prints there from original paintings. The biggest thing was that our daily schedule changed to avoid the hottest temperatures. We were up early, outside for breakfast and the early morning bustle before midday and the temperature increase. We then had to retreat and seek out the A/C!
For me, Seville is a fantastic city, so beautiful with incredible architecture and enchanting tropical parks, gardens and squares. With it's blend of Spanish, Moorish, and Roman influences, it has been shaped to form it's own unique identity.
Using all of this as inspiration for this collection, made the work so much easier, as I was immersed in it for the whole month. Here, I wanted to capture & showcase the harmony between human-made structures and the natural world.
After experimenting with arcylics and pencil drawings, I began to see my ideas come to life more with watercolour paintings. Bringing in the essence of the summer sun's golden hour, with warm hues of amber, honey, and rose. Each piece in the new range evokes a sense of calm and serenity. The atmosphere is tranquil with the sounds of birds and water features flowing. People would be simply strolling through lush greenery, into the historical centre of Seville.
With the pencil drawings, I added after painting, I emphasised the warm tones of terracotta buildings, intricate tiles, and the greenery of gardens like the Real Alcázar. All of these factors played a significant role in my artwork.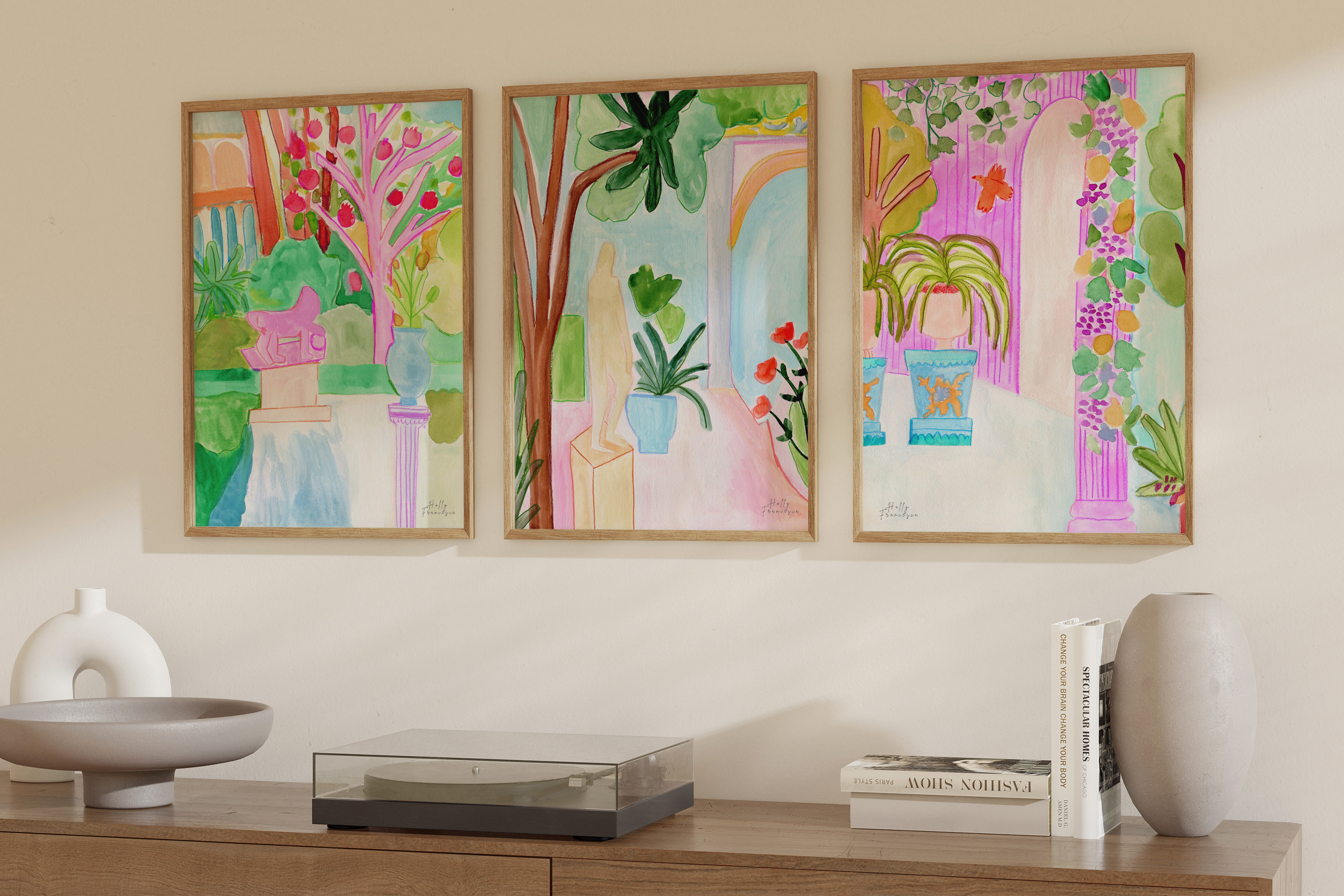 What do you think of my new range?
- - -
I would 100% recommend a visit to Seville, perhaps just not in August. We stayed just over the river from the historical city centre, in Triana (a really vibrant neibourhood).
Here's 10 of our favourite things that we did...
1. Alcázar Real de Sevilla - the Royal Palace of Seville. This Moorish palace complex is by far the most famous Seville attraction and should not be missed. The palace is still in use today by the Spanish King and has incredible gardens to wander, as well as the palace buildings themselves.
2. Catedral de Santa María de la Sede - one of the largest cathedrals in the world. The cathedral was built over the remnants of a Moorish mosque. The Giralda tower was once part of this mosque. Once in the cathedral, you can admire a treasure trove, the tomb of Columbus and the royal chapel. You can also climb the Giralda tower for a beautiful panorama of the city.
3. Plaza de España - The most famous (& beautiful) square in Seville, located in the Maria Luisa park. The was created for the Ibero-American exhibition of 1929 to symbolise peace with the former colonies. A highlight of this 'Spanish square' are the 52 benches with Andalusian tiles that represent all Spanish provinces. Here you'll catch free Flamenco performances and for kids a bubble display.
4. Parque de María Luisa - Next to Plaza de España, you'll find the best park in Sevilla. This green oasis of peace was originally part of the grounds of the San Telmo palace. It was donated to the city in 1893 with the aim of being converted into a city park. You can roam for hours, visit museums, hire bikes and picnic here.
5. Casa de Pilatos - a 16th century palace in the historic district of Santa Cruz. After the Real Alcázar, this is the most beautiful palace in this Andalusian city, and one of the most well-preserved buildings from this period. It's interesting to get an idea of how the aristocrats used to live. And the gardens here were simply stunning.
6. See a Flamenco show - Dance and music typical of Spain (especially Andalusia), is an old tradition in Seville. Many flamenco shows are given today in authentic tablaos. The district of Triana is the centre of flamenco in Seville, while the Museo del Baile Flamenco (MBF) in the city centre is dedicated to the typical Andalusian flamenco dance and has daily shows. We choose to see a show at 'Tablao Flamenco El Palacio Andaluz' and it was really good fun.
7. Museo de Bellas Artes - the Museum of Fine Arts of Seville. After the Prado in Madrid, this is Spain's most important art museum with numerous masterpieces from the Middle Ages to the 20th century, mainly made by Spanish artists such as Francisco de Zurbarán, Velázquez and Bartolomé Murillo. The Museo de Bellas Artes is set in a beautiful old convent with several patios & gardens, and offers also many sculptures.
8. Itálica Archaeological Park - Only 10km north of Seville, in the town of Santiponce, is an area with excavations from Roman times. The park with excavations of the city that was founded in 206 BC includes an amphitheatre and several mosaic floors. This city was the birthplace of Emperors Hadrian and Trajan. From Seville this is a nice morning spent.
9. Palacio de la Condesa de Lebrija - Step off the street in the city centre and suddenly you're in a palace, the former residence of a noble family, which now houses a museum. Countess de Lebrija collected an entire palace full of art, archaeological objects, beautiful rooms with many decorative elements such as Arab arches and many beautiful mosaics. Many fantastic photo opportunities.
10. Metropol Parasol - Setas de Sevilla - also called the 'Mushrooms of Seville' is a special wooden construction dated from 2011 with a panorama terrace, a walking path and an archaeological museum. The tourist attraction and terrace of Metropol Parasol is the ideal place to get a drink and hang out in the city. For the kids, there's even a great playground there too.
...whatever you get up to, Seville has so much to do and you will not regret a trip there :-)